Yet again, we see how the low-carb movement pumps out more bollocks than a room full of politicians. If you are a highly active individual, learn to love your carbohydrates because they are critical for supporting the high volume training necessary to achieve peak fitness and sporting proficiency. ~ Anthony Colpo
http://anthonycolpo.com/the-myth-of-mamo-wolde-and-zero-carb-diets/
My favorate way to counter sweeping declaritions of certainty is with a clinical trial that proves otherwise.
http://www.jissn.com/content/9/1/34/abstract
And another...
http://www.nutritionandmetabolism.com/content/1/1/2
It may be true that world class athletes do not use ketogenic diets, or it would be true, if we ignored the fact that ketogenic diets have been used by world class bodybuilders for decades. Many bodybuilders have "stayed keto" 100% of the time simply because it felt good to do so, rather than cycling in and out. I have known some amateur powerlifters who follow this approach to stay in their weight category.
But we need to be clear, a world class athlete is likely not going to "Go Keto" because he has likely spent his entire life training and eating reletavily healthy food and has long since found a balance that works.
Why then would a world class athlete change his mind and go keto? Of course you are not going to find very many ketogenic athletes in ANY SPORT because prevaling advice, an example provided above, is that its IMPOSSIBLE. And if you are told its impossible without carbs, you are just going to eat carbs and get on with training right?
I will briefly discuss some athletes that are using various levels of carb restriction before I get to the truly keto folks.
Timothy Allen Olson (The moderately low carb runner) and a Red Herring that had the doubters of the world pointing fingers
I thinks its quite obvious Tim does not follow a ketogenic diet at all, but he does follow a "minimal carb approach" and mindfully times his carbs and eats in a way that promotes body fat as his primary fuel source. An earlier article by Anthony Colpo rightly points out that Tim Olson is not a VLC practitioner, however his carb consumption compared to others in his sport is incredibly lower in carbs.
Very Low Carb Athletes
(skirting keto.. hard to say)
They may not be 100% keto but no way total calories from carbs is > 20%
The point is this guys take advantage of a high level of carb restriction to gain competitive advantage.
Ben Greenfield
Usually 30g hemp/pea/rice protein with coconut milk for breakfast, sardines/avocadoes/olives on mixed greens for lunch, and meat + roasted/steamed veggies for dinner. Pre or post workout is typically seeds/nuts/coconut and occasionally dark chocolate or ginger. Average 30-100g carbs/day.

Bear in mind this includes 60-90 minutes of very high intensity exercise on daily basis.

Weekends that may include 2-3 hours of training typically add in sweet potato, yam, fermented grain sources, natto, etc. with either breakfast or dinner, pushing closer to 100-150g carbs/day on one day of week.

Getting ketone monitor and 12 week of hormone/inflammation/lipid panel testing from May 15-August 15 to attempt full blown keto in my buildup to Ironman Canada. ~ Ben Greenfield
Source:
https://www.facebook.com/groups/PrimalBodyPrimalMind/permalink/10151585706465266/?comment_id=10151587025645266&offset=0&total_comments=9
Of course Ben has long pushed a low carb diet for triathletes. I wonder why Anothony overlooked Ben?
Ben authored this book years ago... I guess he never sent Anthony a copy.
Larry Scott
Sort of says it all... and we mourn his passing. Sadly taken from us by Alzheimers, a disease normally that responds very well to a ketogenic diet but has a high genetic component.
Truly Keto Athletes - As Promised!
The Legend - Vince Gironda "The Iron Guru"

Coached and counselled so many successful bodybuilders its impossible to imagine and if you think the training volume of Arnold cannot compare to a crossfit session you lack knowledge of the kind of extremes Arnold and Franco used to put themselves through, to the point of having oxygen masks to recover faster between brutally heavy full body weight sets.
Vince Gironda - The Iron Guru, gave rise to a generation of elite bodybuilders who ate steak, eggs, and a few green veg
Mostly eggs
You can read about his famous steak and eggs diet all over, some versions include a once a week binge free for all, but by accounts Vince himself did not have many "cheat days".
Arnold and many of the bodybuilders of the 60's were on the Vince Gironda's diet of steak, eggs, protein powder mixed with whole cream, etc. It was a healthy moderate fat, high protein, low carb diet with plenty of green veggies.
Source:
http://www.bodybuilding.com/fun/becker25.htm
But there are a great many sources to choose from honestly I could post links all day to Vince Gironda's diet, its amazing Mr. Colpo was unaware of it or maybe he does not consider him an elite athlete as I do.
Darilyn Doddy - Power Lifter
From Paleo For Power
First, lets watch this young lady squat 505lbs, which is "elite" by any standard
The diet? The workload?
I have been in nutritional ketosis for the last 17 weeks.
My diet is around 80% fat, 18% protein and 3%carbs
I have never felt or looked better!
I am a competitive powerlifter that has also added CrossFit into my training. My recovery is so good while being in ketosis that with the major increase in volume i've added to my training, it has not effected my strength one bit. In fact, I am getting stronger by the week while getting leaner.
I train 6-7 days a week, and 3 days out of the week I am getting in 2 workouts.
Sounds kind of like she has no trouble working out with "intensity" ... hrm
Jamie Caporosso - Power Lifter
Drug free. Not supplementing with HRT. I'm 40. No spring chicken. I'm not new to the game. Not like I'm in some type newbie in a honeymoon phase. I've added a ton of extra work. That should be beating the shit out of me. Max lifts took a little dip in the beginning but they are back on the rise. I had to dial in my programming. I'll keep you updated on that as it develops cause I know you are interested and that's a whole nother post if not multiple.
Stay tuned for more posts on this. I'm going to try and stay in NK until my birthday , Oct 31st, as well as continue to improve in Crossfit and powerlifting.
Wow, this also sounds intense!
He does Crossfit 4 times a week in addition to his power lifting training and competing.
Looking at before and after pictures below you can likely figure out why he found low carb appealing...
Hrm... Anthony how do you explain this?
Oh wait I can see it coming... The skeptical response and rightly so... "Well he hasn't been low carb until recently"
Well and thats the point right? He went low carb and his performance got EVEN BETTER. And to the point he wants to continue with it.
http://blog.paleoforpower.com/2013/04/15/getting-bigger-stronger-and-leaner-in-nutritional-ketosis.aspx
Mark "Doc Ott" Ultra-Runner
His BLOG:
http://run.docott.com/
Here it is folks, the one that we all know is out there, the nutritional ketosis ultra-runner.
Nuthin' traditional about Doc Ott it seems!
Our vibram wearing, keto eating ultra runner.
Here you can read about his 2nd place overall, first place male finish on a 100 mile run.
Hey Anthony, is this elite??? I'm not sure...
On a side note Doc Ott and I have been comunicating via Facebook messages lately and he is a follower of Primal North. A really nice guy!
Mike Morton - Champion Ultra Runner
Another ultra-runner who apparently inspired our friend Doc above is Mike Morton
Winner of the Rocky Racoon Trail 100 Mile - While keto
From Mike:
"I switched to a high fat diet about three months ago. I'm in a state of Ketosis; that is when the body turns fat into Ketones for fuel rather than using Glucose from carbohydrates. The tough part for me has been finding a good "comfort food" and cheese with its high fat content has filled that void. The switch has had many benefits but it is tough to give up carbs. The rewards are worth it to me so far. I don't have the crazy cravings and my energy and mental clarity have been great. Rocky Raccoon 100 was the first race since switching. I had been eating a huge volume of food and if you eat a lot you poop a lot! By eating a high fat diet I eat less volume, have a flattened energy curve and don't need to poop five or six times in a 100. More to follow on the diet as the year goes along!" ~ Mike Morton
Source:
http://endurancebuzz.com/2013/02/08/rocky-raccoon-trail-run-2013-results-mike-morton-and-nicole-studer-win-100-mile-dash/
Mike details his diet here:
http://www.runmortonrun.com/fuel
He does credit the Art and Science of Low Carbohydrate Living for his success in adopting the diet.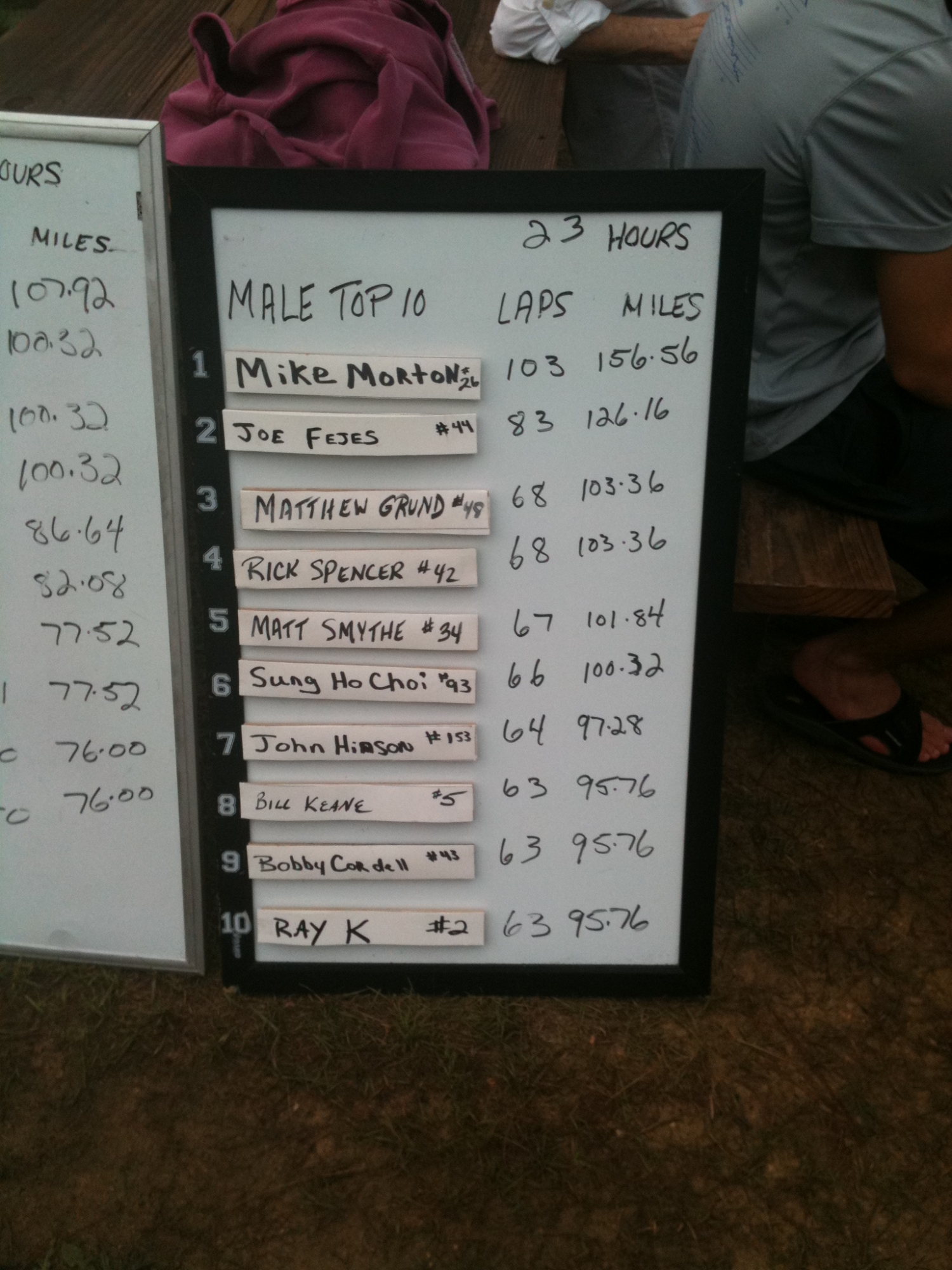 Anthony Colpo, I forget.. is this 'elite' or does he need to carb up??

20 laps and 30 miles ahead of 2nd place - NICE!
And an entire website of ketogenic runners!
Cause you know we have looked high and low and cannot find truly keto athletes... **cough**


Runketo.com
Cherry Picking? Confirmation Bias? Who knows and who cares!
I'm sorry but this info took me all over an hour to find and compile. I imagine if I spent more time I would find more results. I do not think Mr. Colpo searched all that hard.
To state elite athletes cannot be keto and MUST use carbs as a cornerstone is obviously false as some hard requirement, even if these folks are outliers their existence is proof of no universal rule.
My honest take
Training keto is a new approach, it may not be fully tested, but clearly people are having success with it. It may not be ideal for everyone but it certainly seems to be helpful to a great many. I have had great personal success in running with keto but mixed results doing HIIT.


Anthony Responds:
Seems I touched a nerve, I'd be lying if I said the worst thing he could have done is ignore me, I feel so validated and infact the angrier this response becomes as I read it, the more I enjoyed it.